p. B-10.
Carroll Quigley, 66,
Dies, GU Historian
Carroll Quigley, professor of history at Georgetown University for 35 years, died Monday of a heart attack at Georgetown University Hospital. He was 66.
Dr. Quigley retired from teaching last June after being honored by the student body with its Faculty Award for the fourth consecutive year. His Development of Civilization course was cited by the university's Foreign Service alumni from 1941 to 1969 as the most influential course in their undergraduate studies.
Dr. Quigley, a native of Boston. received bachelor's, master's and doctoral degrees from Harvard University. He was an instructor in history at Princeton and a tutor in government, history and politics at Harvard before coming to Georgetown in 1941. In the 1950s, Dr. Quigley was a consultant to the Defense Department, the House Select Committee on Astronautics and Space Exploration, and to the Navy. He also advised the Smithsonian Institution on the layout of the American History section of the Museum of History and Technology.
Dr. Quigley was the author of two books, "Evolution of Civilization" and "Tragedy and Hope: The World in Our Time," and many scholarly articles. A colleague at Georgetown, Dr. Jules Davids, said, "The key to Carroll Quigley's success as a teacher and as a scholar was in his creative intellect, the depth of his perceptions, and the wide interdisciplinary range of his interests, which encompassed the fields of history, economics, philosophy and science."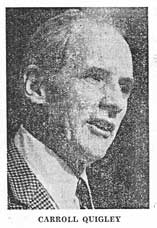 Dr. Quigley received the university's 175th anniversary Medal of Merit in 1964.
He is survived by his wife, Lillian; two sons, Denis C. and Thomas F., both of Washington, and two brothers, Dr. John A., of Hudson, N.H., and Arthur J., of South Bend, Ind.