An obituary of Carroll Quigley in The Washington Star, Thursday, January 6, 1977,
p. B-4.


Carroll Quigley Dies;
Revered GU Professor

CARROLL QUIGLEY -
Taught for 35 years
Carroll Quigley, 66, a former Georgetown University history professor who received four Faculty Awards for distinguished teaching, died Monday in the university's hospital after a heart attack. He lived on Greenwich Parkway NW.

Quigley, a history professor for 35 years, retired last June after receiving for the fourth consecutive year the student-voted Faculty Award.

One of Georgetown's most respected professors, Quigley was awarded the university's Vicennial Medal in 1961 and the 175th Anniversary Medal of Merit in 1964. His course on the development of civilization was cited by the university's foreign service alumni from 1941 to 1969 as the most influential course in their undergraduate careers.

A COLLEAGUE, Jules Davids, said that Quigley's "success as a teacher and as a scholar was in his creative intellect, the depth of his perceptions and the wide interdisciplinary range of his interests, which encompassed the fields of history, economics, philosophy and science.

"Most alumni who look back on their college years at Georgetown say they will never forget him. His influence remains with them, and they recall vividly how much he taught them."

In the 1950s Quigley was a consultant to the Defense Department and the House Select Committee on Astronautics and Space Exploration. He was a consultant for the Navy on development of weapons systems and for the Smithsonian Institution on the layout of the American history section of the Museum of History and Technology.

He lectured extensively on Africa, not only to Georgetown students, but also to groups including the Industrial College of the Armed Forces and the fellows in public affairs of the Brookings Institution.

In the 1960s he published two major books, "Evolution of Civilizations," which was translated into Spanish and Portuguese editions, and "Tragedy and Hope: The World in Our Time."

Quigley, a native of Massachusetts, received his A.B., M.A. and Ph.D. degrees from Harvard University. He was a history instructor at Princeton University and taught government, history and politics at Harvard before joining the Georgetown faculty.

He leaves his wife, Lillian; two sons, Denis C. and Thomas F., of the District, and two brothers.

The family suggests that expressions of sympathy be in the form of contributions to the Carroll Quigley Fund, School of Foreign Service, Georgetown University, 37th and O Streets NW. The fund is for the endowment of a Carroll Quigley professorship in the foreign service school.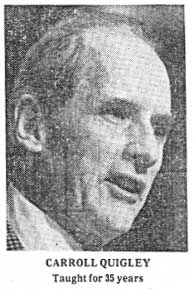 Scan of original newspaper clipping